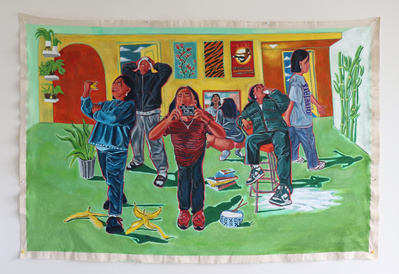 Oil on canvas 3'x5'
I tell my diasporic-Canadian, experience through all the different roles I appear in society. Self-expression through fashion is one of the first things in how we perceive someone in public. Race/ethnicity and gender are equal physical characteristics people perceive others on. With those different intersections coming into play, we are automatically placed into a hetero-patriarchal, colonial lens, and our bodies then become stereotyped and placed into norms. Our physical expression is somewhat colonial. We express with what we consume and in a white male gazed system, we view anything that looks different with "foreign" and or "abnormal."
I love the power of the human figure and self-portraiture. I, as an artist, can depict how I gaze upon myself and try and recognize how others see me. In this painting, I represent my female, queer, coloured body, which inhabits domestic space where Asian tropes have been utilized. I play with the viewer's experience of their gaze on me as my figure gazes back at the viewer. I try to break gender norms, sexual norms and acknowledge my political body.
This concept all ties back to my internally racist and homophobic struggles before I came to university. The character development I have experienced has liberated me in multiple ways, and I can now recognize, represent and reflect on these issues I have faced and still face.